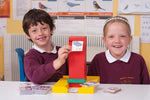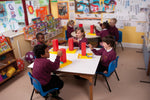 Smart Chute
Regular Price

£14.99
Sale Price

£14.99

Regular Price

£16.99
Unit Price

per
This high-quality card flipper is a fun and exciting way to develop key literacy and numeracy skills. When posting the card in the Smart Chute, the student can say the answer (such as the equation 5 + 3) and the correct answer then miraculously appears at the bottom.
The Smart Chute is a very popular resource and children will be intrigued as to how the Smart Chute can work out the correct answer. It reinforces key concepts and develops memory skills.
The Smart Chute comes in three plastic pieces, which clip together and can be dismantled easily for portability. The Chute is solid plastic and its durability will withstand maximum classroom use. There are over 100 literacy and numeracy cards compatible with the Smart Chute (sold separately). A perfect resource for individual or group work.
Smart chute
Quick delivery and children love it!
Smart chute is fab
Love it but I do think it's very expensive
Hopefully it's gonna last a long time
Smartchute
It's really good! Very pleased with the quality- the children in class love playing it.
Amazing product
Our son has DLD and has extremely limited speech sounds, he has dyslexia and really struggles with most aspects of reading/phonics-even numeracy concepts. We came across this chute when his speech and language specialist tried it with him and he really enjoyed it, so I researched it and bought him one along with the initial sounds, final sounds and counting to 20. We've used it for a few weeks and for the first time in his life he can actually spot practically all the initial sounds and a lot of the final sounds-a concept he's struggled with for years!!!! He's progressing nicely on the counting to 20 ones too. This is absolutely perfect for him, the multi sensory approach along with the added independence of being able to self check has been the breakthrough we've been looking for! We can't thank you enough and will definitely be buying more cards as he progresses. We've told a lot of our other home Ed friends about it and friends who work in SEN settings. It also arrived quickly, a small but noteworthy bonus.
Smart Chute
My kids love it! Instant feedback and now they're trying to get through the stack quicker than they did on previous attempts. The different levels make it simple to use with older and younger students as well. Great product!