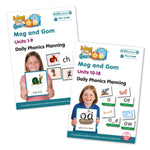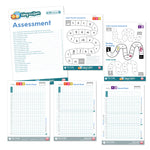 Mog and Gom Classroom Kit
Regular Price

£249.00
Sale Price

£249.00

Regular Price
Unit Price

per
Follow the adventures of Mog and Gom as they meet the inhabitants of King Earon's Park, find the missing Wogom rocks and rescue their friends. Mog and Gom are a highly motivational series of 72 books covering Phases 2-5d of Letters and Sounds.
Whereas our 
Letters and Sounds
 resources all use 
photo m
nemonics, our M
og and Gom
 resources all use 
illustrated
 mnemonics with patters. The phonic progression is the same, but the Mog and Gom series has been split into 18 units instead of 5 phases.
Contents:
Alphabet Frieze

Phoneme Frieze

Mnemonic Cards Units 1-5 (Phase 2-3)

Mnemonic Cards Units 

6-7 (Phase 3)
Mnemonic Cards - Units 1-18 (Phase 2-5d) 

(Download)

Flash Cards Units 1-7 (Phases 2-3)

Flash Cards Units 

8-12 (Phases 4-5a)

Flash Cards - Alternative Pronunciations (Phases 5b-5d)

Flash Cards - Alternative Spellings (Phases 5c-5d)

Grapheme Cards Units 1-7

Grapheme Cards Units 

8-17

6 x Grow the Code Desktop Charts

Summative Assessment Pack

Mog and Gom Library (72 books).

Assessment, guidance and daily lesson plans
This complete Mog and Gom classroom kit contains everything needed to teach Phases 2-5d of our Letters and Sounds validated SSP programme.
Mog and Gom Classroom Kit
In short, we highly recommend this product. I purchased this kit for my 13 year old dyslexic son because this program introduces one sound of English in each book, has English sound cards to review and Flash Cards for orthographic mapping, which I
understand and believe is the key to reading. If my son didn't know the alphabet I would have used this one for sure. My son enjoys the stories, which he finds interesting, engaging and humourous, even the first 5 books! We are up to book 25. He reads a new book 4 times a day, does orthographic mapping with the flash cards which accompany each book and reviews the sound cards. He reviews the flash cards on a rotating basis for instance vowel a on Monday, e on Tuesday, i on Wednesday etc. My son gives this program a '10 out of 10' which is impressive considering how many programs we have tried thus far.